Thanks to Minimally Invasive Treatment, My Rental Tumor Has Shrunk by 7cm*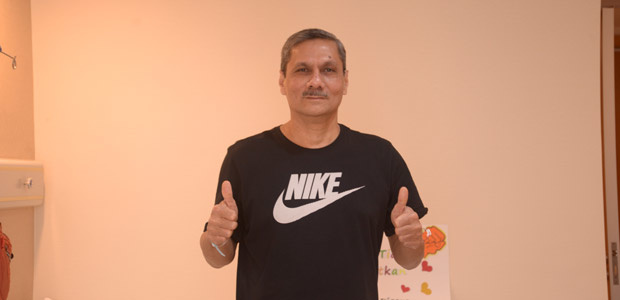 HERRY SURYADI SIRATH
My name is HERRY SURYADI SIRATH, from Jakarta, Indonesia. On June 12, 2016, I went shopping outdoors and suddenly felt breathless with chest distress. After checking up in the local hospital of Indonesia, I was diagnosed as kidney cancer stage 4, with 15cm tumor and massive pleural fluid.
Actually, I was familiar with cancer before I knew that I was diagnosed as cancer, as a lot of my relatives died of cancer. Therefore, I knew the limitation of surgery and radiotherapy. My father, after receiving resection surgery for nasopharyngeal cancer, got recurrence in 2 months. Instead of saving his life, the surgery and radiotherapy led to a lot of pain for him.
When my family and I were seeking a new treatment for cancer all around, one of my friends, a breast cancer patient,received good therapeutic effect from St. Stamford MCHG, in which she underwent minimally invasive treatments. Now, her tumor has disappeared with good condition. Although I was anxious and worried for cancer at that time, I still made up my mind to consult for details in the local office of this hospital when I heard this good news. I knew that there are a lot of minimally invasive therapies with little side effect in St. Stamford MCHG, including interventional therapy, cryotherapy and natural therapy. Moreover, the news that those patients from Indonesia whose situation was worse than mine had got a good effect made me feel positive towards my disease without doubt.
On June 22, 2016, accompanied by my wife and daughter, I came to St. Stamford MCHG with afraid. However, I felt confident to this hospital at the moment I came here, for I saw a lot of patients whose situation was worse than mine receiving treatment positively in St. Stamford MCHG from all over the world as I knew before.
In hospital, the MDT set up a comprehensive minimally invasive treatment plan for my disease, including cryotherapy and natural therapy. With local anesthesia, I was awake to the process of therapy but no pains. When the CT scan confirmed the tumor site, the doctor inserted six special needles to my tumor site with argon and helium respectively, which ablated the tumor by repeated freezing and heating. The doctor told me that the cryotherapy could destroy tumor with few side effects by locating the tumor site precisely, which could provide a good therapeutic effect for cancer patients no matter they were early stage patients or the patients like me whose cancer cells had been diffused.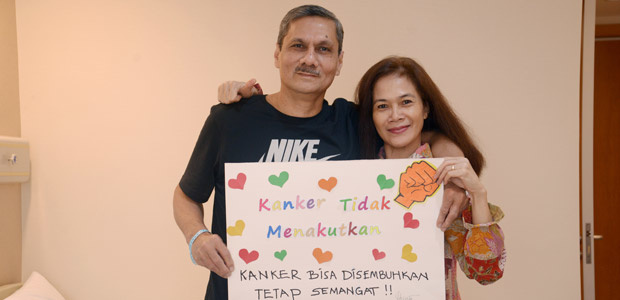 HERRY SURYADI SIRATH and his wife
As the doctor said, I felt better after a cryotherapy and natural therapy, and the chest distress had relieved. Now, it is the second time for me to have treatment in the hospital. The checking up found that the tumor cells in my lung had lost activity, node had gone and the tumor in kidney had shrunk to 8cm from 15cm. I would keep receiving other minimally invasive therapy next, and I believe that the tumor would be eliminated gradually until I regain health.
Besides receiving treatment, the patients from all over the world would gather in a delicate café bar on the first floor of the hospital to have a small talk, inquire condition and encourage each other to build up confidence to fight against cancer, which made me not feel lonely in the leisure time. I make a lot of new friends and fight against cancer with them here, which make me realize the cancer is not that horrible.