Minimally Invasive Therapy Gives Strong Impetus to Fight against Stage IV Lung Cancer*
On the first sight, SUDARMAN UPA sits in his ward. This man, at nearly his sixties, is going to be discharged. He dresses casually with his luggage packed, sitting on the bed and chatting with his son. He looks nothing like a patient, let alone a cancer patient.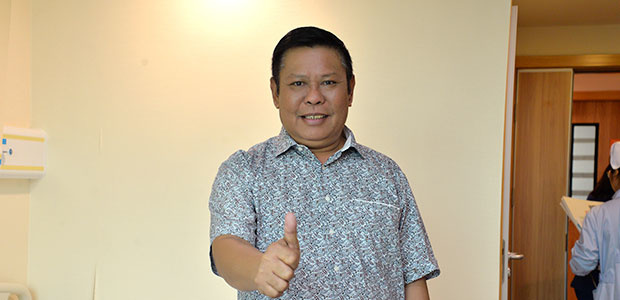 SUDARMAN UPA
After greeting, we learned that SUDARMAN UPA comes from Indonesia. He is a teacher with healthy condition. He never thought that he could get cancer. After being diagnosed with cancer, he refused to take chemotherapy as the only option. By chance, he found St. Stamford Modern Cancer Hospital Guangzhou.
SUDARMAN UPA is Christian. He believes it's faith that he met St. Stamford Modern Cancer Hospital Guangzhou. "In Aug. 2018, I went to Singapore and Malaysia after being diagnosed with cancer, seeking for lung cancer treatment. Eventually, I was attracted by a video concerning treatment for lung cancer. In Jakarta office of St. Stamford Modern Cancer Hospital Guangzhou, the professor offered suggestion about treatment for my case and I found confidence." SUDARMAN UPA said.
Lung cancer features higher risk of malignancy. The physical condition of the patient, whether he is treated with standardized treatment, and what kind of therapy applied seriously affect the patient's survival and quality of life afterward. Facing stage IV lung cancer, he made a wise decision.
In Sept. 2018, SUDARMAN UPA suffered severe cough and difficulty in breathing upon the admission. CT scans showed a tumor with the size of 12.7*6.6 cm.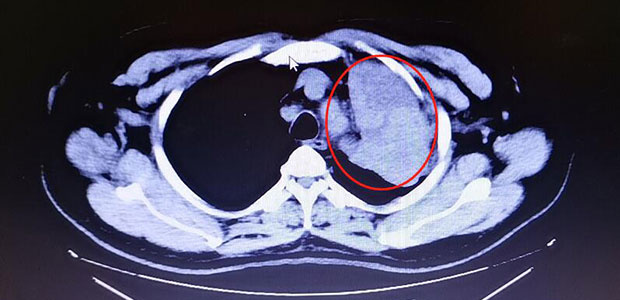 Before the treatment
"Honestly, I've never heard of interventional therapy or cryotherapy back in Indonesia, where lung cancer patient are only given systemic chemotherapy. I'm well aware of the side effects of chemotherapy, so I refused it without a second thought. Fortunately there are alternative cancer therapies provided in St. Stamford Modern Cancer Hospital Guangzhou and it also witnesses many successful cases of Indonesian lung cancer patient. I'd like to give it a shot."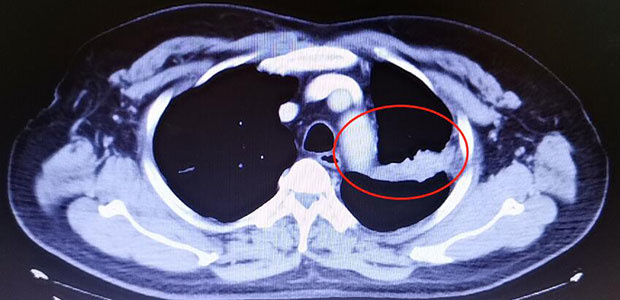 After the treatment
After the treatment, SUDARMAN UPA and his family were overjoyed at the result.
"After the 1st session of interventional therapy, my lung tumor has shrunk to 90% and even to 96% on the 5th session. Up till now, I've received seven sessions of interventional therapy and one cryotherapy. We didn't get the latest result, but I do believe that I will get better soon. "
Interventional therapy, an advanced version of systemic chemotherapy, performs perfusion and embolism by injecting high concentration anticancer drugs through feeding artery directly into the lesion. The whole procedure effectively and thoroughly kills the tumor. Interventional therapy offers an ideal option for lung cancer patients in middle or advanced stage, who is unable to or unwilling to receive open surgery or traditional cancer therapies such as chemotherapy and radiotherapy. It protects the normal tissues and at the same time kills cancer cells.