Thank St. Stamford Modern Cancer Hospital Guangzhou for being there in the toughest time of my life*
Thi Hue Nguyen, who is from Vietnam, was an advanced lung cancer patient.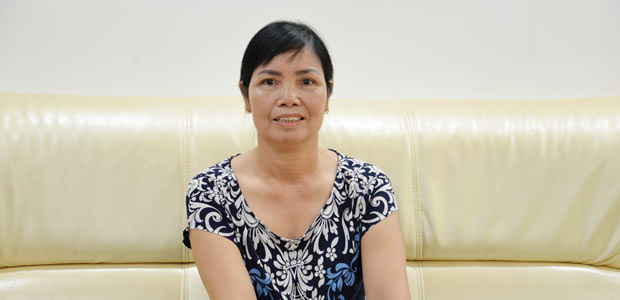 Thi Hue Nguyen
Thi Hue Nguyen began to feel uncomfortable and coughing in early 2018, and by March the cough got aggravating, accompanied by other symptoms like difficulty breathing after activities. On April 2, 2018, she took the chest X-ray examination at a local hospital, and the result showed a lesion and pleural effusion on the right lung. She received further CT scan on April 9, 2018, discovering a malignant tumor about 2.8 cm*3.2 cm in her right lung, and she was diagnosed as lung cancer.
However, she didn't know anything about all these because her husband and son kept these from her, and they wanted to relieve her from anxiety and accept treatment at ease. At the local hospital, a total of 3000 ml fluid in her cavity was taken out and doctor prescribed her medication. But in a month her condition relapsed and she didn't see any improvement. Her husband and son started to seek another medical advice for her and through a friend's recommendation they got to know St. Stamford Modern Cancer Hospital Guangzhou. After a remote consultation with a doctor in Ho Chi Minh branch Office, Thi Hue Nguyen's families decided to bring her to China for treatment.
Her families didn't tell her the truth until they left for China.
Thi Hue Nguyen was admitted to the hospital on May 10, 2018. After a detailed examination, the Multidisciplinary Team (MDT) conducted her effusion drainage first and then arranged her appropriate minimally invasive therapy. On May 11, 2018, Thi Hue Nguyen received a thoracentesis drainage and a total of 3000 ml of bloody liquid was drained out. On May 17, 2018, doctors conducted particle implantation for her and based on the tumors' size and her body condition, 30 particles were implanted in the tumor, which would keep emitting γ-ray within the tumor in 2 months. And during this period she also went back to the hospital for targeted drugs therapy and interventional therapy. The treatments had a remarkable effect for the chest X-ray on June 30, 2018 showed that the right lung tumor shrunk significantly. Thi Hue Nguyen noted, minimally invasive therapy in St. Stamford Modern Cancer Hospital Guangzhou was really effective for her and she was getting better after 2 weeks of treatment. On July 6, 2018 when Thi Hue Nguyen discharged from the hospital, her physical condition was already stable. Not only the tumor continued to shrink but also there was no pleural effusion, and she was good in spirit and had a good appetite.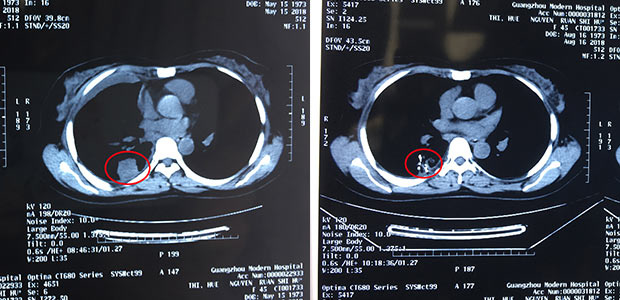 Before minimally invasive therapy (May 15, 2018) VS After treatment (August 16,2018)
Until August 2018, she has come back to the hospital twice for follow-up, and the CT showed that the tumor in her right lung almost disappeared. Her physical condition is getting better, and it's hard to imagine that she is a cancer patient for she looks vigorous.
Thi Hue Nguyen said that she was very shock and sad when she knew that she was suffering cancer, but she gained a lot of support and encouragement from her families which helped her to face it. "My families were the power for me to battle against cancer, especially my husband who encouraged me and gave me confidence. To be honest, after coming to Guangzhou, the advanced minimally invasive therapy and my improving condition had made me more determined. There are doctors who are very responsible and whenever I needed they will be there for me, and the translators, too, they are considerate." added Thi Hue Nguyen.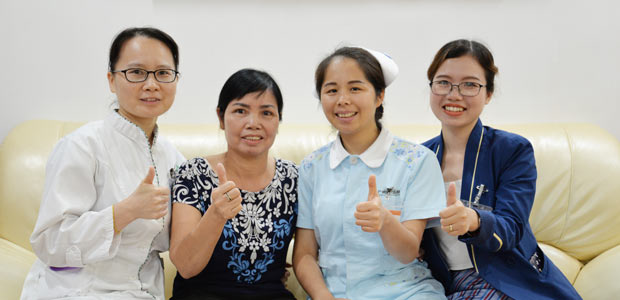 Thi Hue Nguyen and the medical staff
Thi Hue Nguyen has already a grandma; her son has already got married and had children, and next month it will be her daughter's wedding day. We sincerely wish Thi Hue Nguyen a better health and hope every cancer patients can survive cancer.