Minimally invasive therapy save advanced lung cancer patient from death*
On March 2, 2017, Bangkok Office entered an anti-cancer warrior: Mrs. Jutamas. She is regarded as a walking legend for her astonishing cancer remission. She was confirmed as advanced lung cancer and underwent chemotherapy in Thailand, however, severe side effect only worsened her condition and she made no improvement. Introduced by her friends, she came to St. Stamford Modern Cancer Hospital Guangzhou for minimally invasive therapy. After interventional therapy, cryotherapy and photon knife therapy, tumors in her lung shrank and she is in remission.
A letter of death sentence plunged her into an abyss of despair
57-year-old Jutamas's simple and quiet life was broken in February 2014, by a medical report from physical examination. X-rays report first indicated a pathological change in her lung, while further examination results plunged her into an abyss of despair. She was diagnosed with advanced lung cancer, with multiple metastases to liver and bone.
Chemo therapy was recommended for Jutamas to control her cancer and prolong her life. However, it was hard for her to grasp why advanced lung cancer came to her since she was always in good health. She felt desperate and lost and puzzled, "does chemotherapy mean death for me?" she couldn't stop asking herself.
Ultimate choice at dead line
In July 2014, encouraged by her family, Jutamas started to undergo chemotherapy. 12 cycles of chemotherapy not only put her into the abyss of despair but worsened her condition. Losing her hair, appetite and strength, Jutamas became extremely emaciated and weak; she couldn't even support herself to sit up. What's worse, there was no signs of any improvement.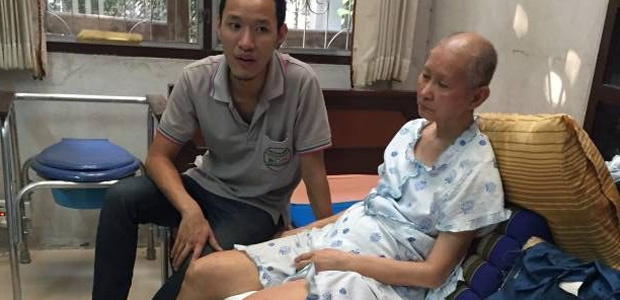 Jutamas in chemo
In May 2015, Jutamas was in a confused state of mind and had illusion, so she was sent to hospital and it turned out that tumor had spread to her brain. Seeing his mother being worse and worse, Jutamas's son felt it necessary to seek for better and more effective treatments for her.
Subsequently, knowing there is an office for cancer treatment consultation of St. Stamford Modern Cancer Hospital Guangzhou in Bangkok; Jutamas's son went to consult expert there immediately. On hearing of the detailed introduction of Jutamas's condition, oncologists and staff in Bangkok Office arranged a visit to her house at once. Seeing she half lay on the sofa feebly and being unable to speak properly, experts were so worried and suggested him to take his mom to Guangzhou for comprehensive minimally invasive treatments. Without hesitation and delay, Jutamas was escorted to St. Stamford Modern Cancer Hospital Guangzhou. "That was the best choice I had ever made, for it has saved my mother." he added.
Comprehensive minimally invasive treatments saved her from the edge of death
Jutamas arrived at St. Stamford Modern Cancer Hospital Guangzhou in August 2015. Based on her symptoms, the Multidisciplinary Team (MDT) firstly tailored an individualized treatment plan of interventional therapy, cryotherapy, and photon knife therapy for her. After the first session of interventional therapy, her symptoms, like pain or fatigue started to ease up. Since there were fewer side effects, Jutamas took a favorable turn and was recovering from cancer. In October 2016, tests showed tumor in her lung was smaller. Till December, she was told that treatments had kicked off most of her cancer cells and she was in a stable condition. And that's how miracle happened.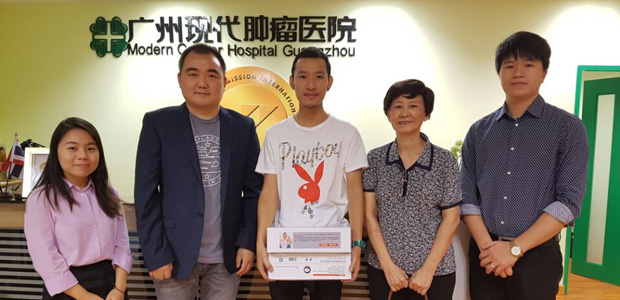 Jutamas (Second Right) in Bangkok Office after minimally invasive therapy in Guangzhou
In March 2017, Jutamas came to Bangkok Office and told reporters about her cancer-fighting experience in Guangzhou. She was as healthy as normal people, with ruddy face and good spirit. Symptom like weakness and fatigue has stopped. She emotionally shared: "Today I'm here to share my personal experience, hoping to bring new hope for cancer patients, especially advanced cancer patients. Let everyone know that St. Stamford Modern Cancer Hospital Guangzhou has new treatment technologies, which can be a new choice for them."
Professor Peng Xiaochi, chief expert of St. Stamford Modern Cancer Hospital Guangzhou, explained that traditional treatment methods for advanced cancers are radiotherapy and chemotherapy, but for most advanced cancer patients, it is hard to withstand the huge side effects. And reflecting this factor, some advanced cancer patients even decline to accept treatments. While minimally invasive treatment has the advantages of less trauma, fewer toxic and side effects, and quicker recovery. It can help patients avoid the harm caused by traditional surgery and chemo/radiotherapy. It is currently recognized as one of the effective methods to treat middle and advanced cancer. He also appealed that advanced cancer patients should actively seek medical advice and do not give up treatment.