Confronting Fear, Advanced Lung Cancer Patient Regains Life!*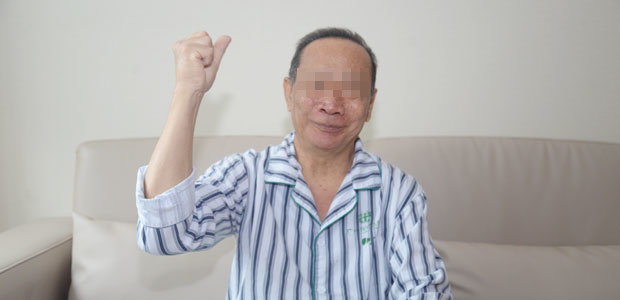 Wu Yirui
Testimonials: "Never give up on treatment, hold on and there's hope!"
To prove being healthy while being detected cancer
In November 2015, Wu Yirui and his family came to Guangzhou, China for traveling. Though he's a 66-year-old man being so healthy and vigorous that he wouldn't feel tired after a whole day sightseeing. Drawing to a close to this wonderful trip in China, Wu accidentally found the promotion of health checkup at a local hospital, so on a whim he asked his family to take physical examination. It turned out that the whole family was in good condition except him. He, who seemed to be the healthiest among the family, was told by doctor that he had a lump on his left lung. His families were as astound as him on hearing that. Due to the expiration of Visa, he didn't take any further checkup and went back to Phnom Penh with mingled confusion and fear.
On arriving home, he firstly got an overall and detailed understanding over cancer. Doctor in Guangzhou once comforted him that the tumor would be benign and suggested him take further checkup to confirm. Therefore he took a biopsy in Thailand, where is not so far from Cambodia. The result turned out to be lung adenocarcinoma and he finally accepted the reality for the first time. At the moment, he got prepared for rising to the challenge of death.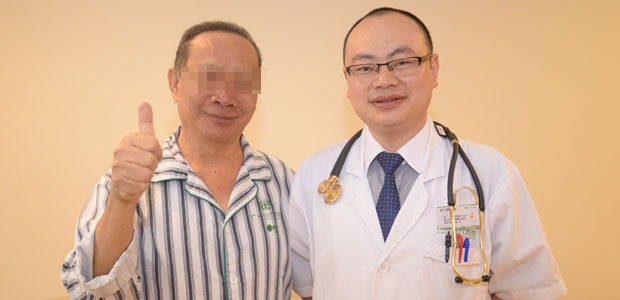 Wu Yirui and his oncologist
Embrace the reality and witness the efficacy of invasive interventional therapy
He refused to adopt the suggestion to resect the tumor off lung, meanwhile, during a short period, he grabbed a general understanding of cancer hospital around the world, among which the minimally invasive technique of St. Stamford Modern Cancer Hospital Guangzhou caught his eyes and brought hope for him. Finally, he chose to return to Guangzhou China.
On 19th November 2015, Wu arrived at St. Stamford Modern Cancer Hospital Guangzhou with the company of family. After overall checkup, he was diagnosed as left lung adenocarcinoma with metastases to lungs and mediastinal lymph nodes, stage IV. Multidisciplinary team (MDT) made a comprehensive treatment plan, interventional therapy and cryotherapy, for him.
During the whole process of treatment, the most impressive moment was the first session of interventional therapy. He recalled that the therapy was conducted under local anaesthesia, therefore he remembered every detail vividly. He watched the doctor insert the interventional needle into his body. "I was so nervous and terrified, but I know that I have to overcome all these." he said, "when the therapeutic drugs infused the body, I felt hot in the tumor location. It felt like the medicine was fighting against the cancer cells." After the first therapy, Wu gained confidence on further treatments; moreover, he cooperated actively with doctors and followed the treatment plan!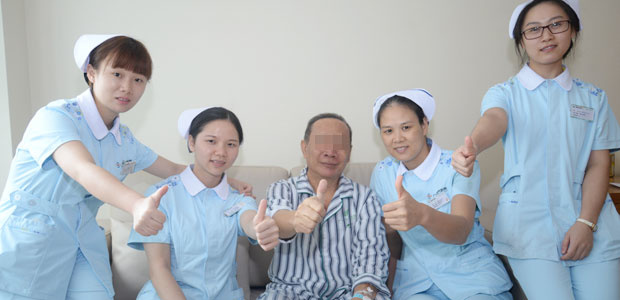 Wu Yirui and the nurses
Trust the doctor and be an obedient patient.
The efficacy of Wu's treatment lived up to our expectations. Every single time, the result of recheck shows that the disease has been controlled and the tumor has shrunk. Everyone said that it was his bravery and courage that defeat the disease. Yet he said, "Most importantly, no matter how restless I am, I always trust my oncologist and follow his arrangement. Keep doing treatment and recheck on time. The oncologist said I was the most obedient patient. In my opinion, cooperating with doctors and insisting on treatment are the keys to my improved condition."
Time flies, advanced lung cancer patient Wu has been taking treatment for one year. In November 2016, he came to St.Stamford Modern Cancer Hospital Guangzhou for rechecking, It turned out that the condition has been stable, lung tumor has shrunk and the metastatic cancer cells in other parts of the body have also lost activity. Because his condition was well under control, he attended the interview and took this opportunity to share his anticancer experience. He also encouraged other patients with words: "Never give up on treatment, hold on and there's hope".